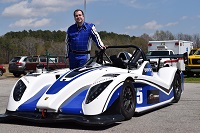 Drive Radical SR1
Available Any Day with Notice
$2,200 / Day
Virginia
Drive Radical SR1 *
$2200 for HDPE Day
$3950 for Test Day 
1.9G Cornering and Braking,
10,000 RPM Screaming Engine,
6 Speed Paddle Shifting
*   Participants will be required to have 30 min coaching.  Participant must pay HPDE track fee separately.  Participant will be pay for their fuel at rate of $150 per 2 hour driving time.   In order to rent a driver must have documented track day experience or hold a current SCCA or equivalent regional race license OR if a driver has no experience, then driver will need to hire a private coach.   Some cars are available for 1/2 day which is limited to 1 hour on-track driving time. Normal HPDE day is limited to 2 hours on-track driving time.  Test Day allows up to 4 hours driving time per day.  Participant is responsible for all crash damage to car and track.  Crash damage insurance is required for all rentals, refer to FAQ for crash insurance details.